Focus Africa By IATA – The key takeaways
Achma Asokan-Foster, Group CEO, AirlinePros International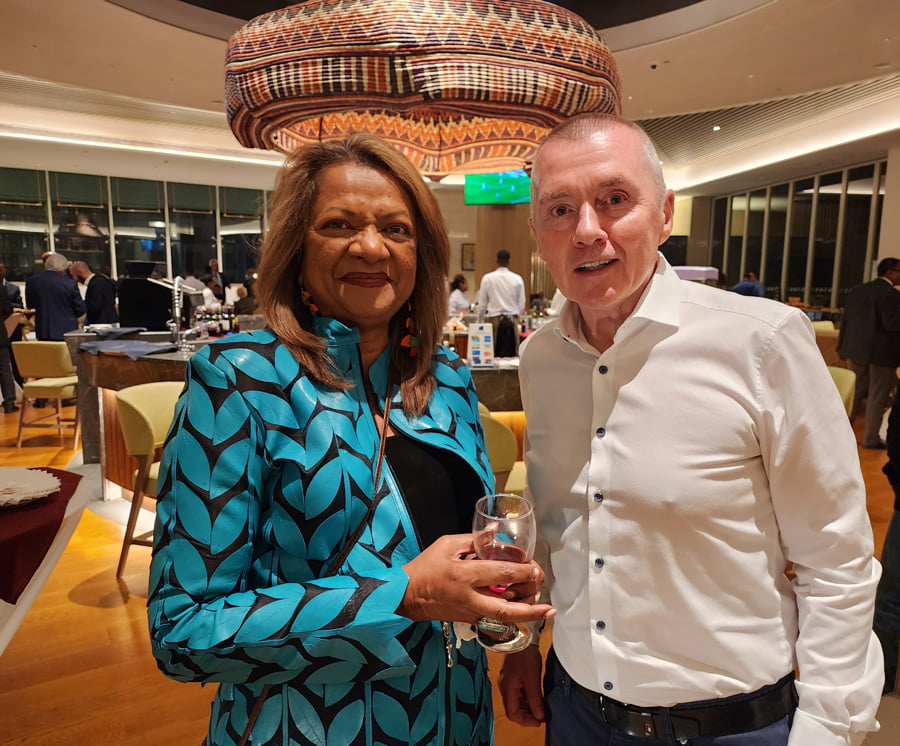 Achma with Willie Walsh, Director General, IATA.
The Focus Africa initiative, organized by IATA, the International Air Transport Association was perfectly timed post pandemic to inject much needed stimuli to bring together all the major players in the aviation industry from Civil Aviation, Airports, Airlines, Tourism & Trade Associations to address recovery, resurgence and future resilience for countering the trail of devastation that impacted the African Continent.
The need for a safe and sustainable aviation industry has been touted extensively as a critical success factor for the economic and social development of Africa.   Africa accounts for 18% of the global population but less than 3% of global GDP and just 2.1% of air passenger and cargo transport activity. Kamil Al-Awadhi, IATA Regional VP for Africa & Middle East, believes that Africa's share should be 15% – this is doable, however, as we know, it needs focused solutions through collaborative efforts across borders.
'Focus Africa' was a well-attended event held in Addis Ababa, Ethiopia, with airline CEOs, aviation leaders, policymakers and influencers from Africa, the Middle East, and all over the world. With a clear mandate for growth, the stakeholders came together to discuss and deliver on six focus areas: Safety, Infrastructure, Connectivity, Finance and Distribution, Sustainability and Capacity building.
Deliberations over two days of the conference delved deeply into most of the factors that were ailing African aviation like high costs, lack of connectivity, regulatory impediments, infrastructure constraints, slow adoption of global standards, and shortage of skills, probably even the lack of proper awareness about the employability potential of the sector.
The thrust on safety was a recurring theme. IOSA, IATA Operational Safety Audit is very important for establishing a collaborative environment for aviation safety intra-Africa. There can be zero tolerance when it comes to safety.
'IATA's IOSA program has made great strides in improving safety at the airline level. By getting more airlines to sign up, safety performance will improve across the board. But the game changer is getting regulators to insert IOSA standards into their regulatory regime because it goes "above and beyond what regulatory authorities want,' if I may quote Kamil.
SAATM, or the Single African Air Transport Market, was formed to expedite the implementation of the Yamoussoukro Declaration in 1988. IATA, through Focus Africa, furthered their commitment and backing to SAATM, which works to promote intra-Africa connectivity for movement of people and goods. African Civil Aviation Commission, AFCAC, is the implementing agency of SAATM, and the African Continental Free Trade Area, AfCFTA, is expected to expand the size of Africa's economy to US$29 trillion by 2050. We all know whatever holds back aviation from realizing its true potential holds back economic growth and development of the region.
IATA Director General Willie Walsh said, success will be measured, and there will be accountability. With the weight of IATA behind it and the resources being allocated to it, I do believe that Focus Africa will achieve its stated objective.
There was also a lot of catching up with old friends from the airline industry, from IATA where I worked for over five years as an auditor, as well as with new potential clients. Ethiopian Airlines, the official host, left no stone unturned to ensure every attendee felt true Ethiopian hospitality with delicious ethnic cuisines.
A meaningful event, 'Focus Africa' has great potential to further its stated purpose of advancing aviation in the region and is sure to see many milestones achieved before the next edition – the sheer determination, willpower, and of course, the unstinted support of stakeholders was evident.