Book your Flight Tickets today!
6%
Instant Discount* for Students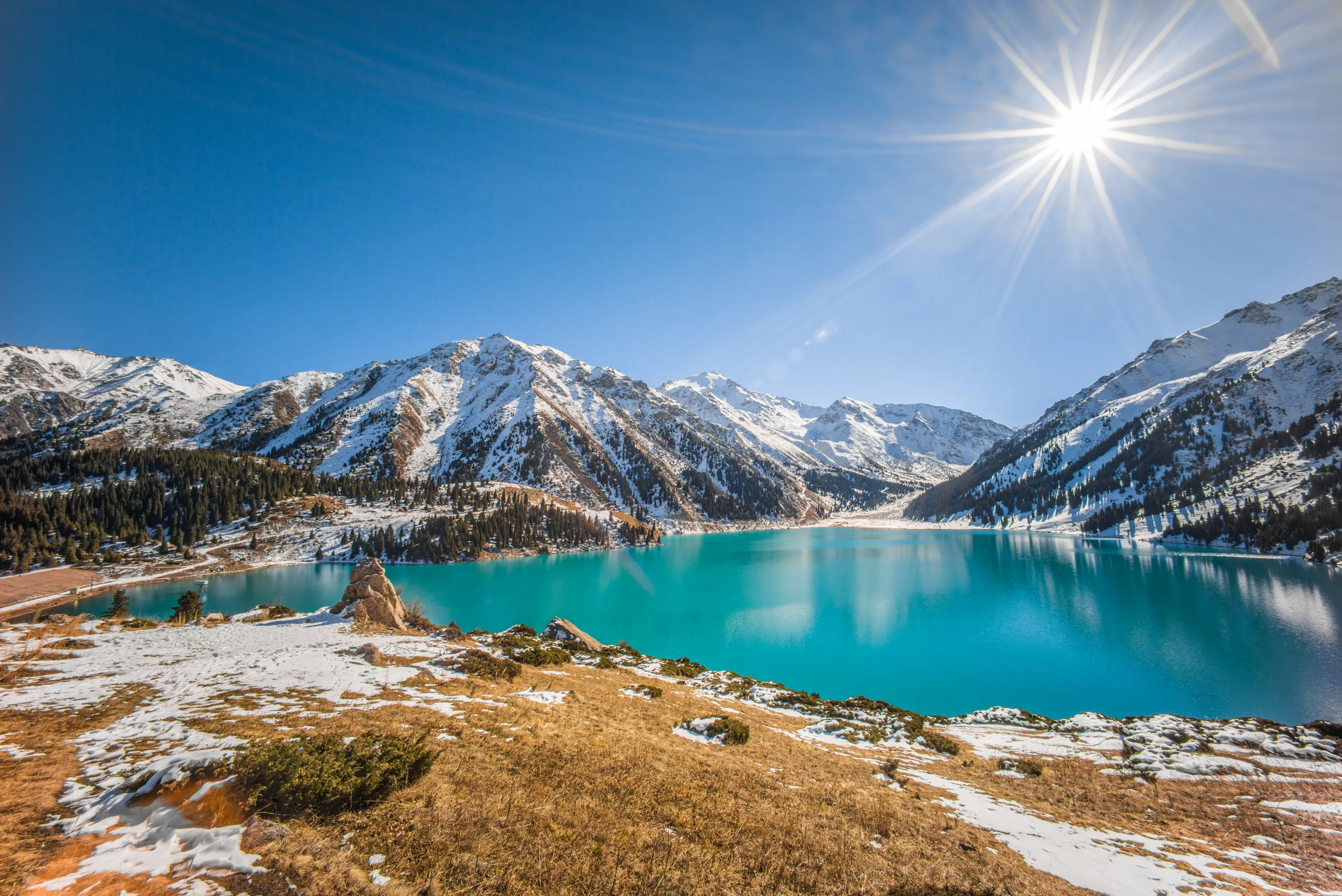 Nestled at the foot of the Trans-Ili Alatau mountains, Almaty, once the capital of Kazakhstan, is an enthralling blend of urban sophistication, historical richness, and breathtaking natural beauty. Known as the cultural and financial heart of Central Asia, Almaty offers an unforgettable journey through time and space, making it an unmissable destination for globetrotters.
Upon entering Almaty, you will be greeted by a skyline dominated by modern, glass-clad skyscrapers, offset by snow-capped mountain peaks. Yet, among this contemporary landscape, a strong connection to its historical past remains. One example is the Zenkov Cathedral, an ornately designed wooden structure, that stands as a testament to the city's Russian Orthodox heritage. Constructed without a single nail, it is a marvelous piece of engineering, nestled within the verdant tranquility of Panfilov Park.
At the heart of the city is the bustling Green Bazaar, an assault on the senses, and a must-visit spot for anyone wishing to immerse themselves in local culture. From the aroma of fresh bread and spices to vibrant displays of fruits, vegetables, and textiles, the bazaar embodies the city's lively spirit and diverse influences.
Nature enthusiasts will find Almaty particularly alluring. Its proximity to the majestic Tian Shan Mountains offers numerous hiking, skiing, and camping opportunities. A short cable car ride up to the Shymbulak Ski Resort or a hike around the Big Almaty Lake will reveal landscapes of immense beauty, juxtaposing serene mountain vistas with the city's bustling urban life.
Almaty also stands out as a culinary destination. The city's gastronomic scene is a delightful mix of traditional Kazakh dishes, Russian classics, and a wide array of international cuisines. From lavish restaurants to local teahouses, called chaikhanas, food in Almaty is a celebration of the city's multiculturalism.
Moreover, Almaty's vibrant arts scene is another compelling reason to visit. The city is studded with numerous theaters, galleries, and concert halls. The A. Kasteyev State Museum of Arts, the largest art museum in Kazakhstan, offers an impressive collection of Kazakh, Russian and Western European art.
For a thrilling end to your Almaty exploration, embark on a nighttime tour of the city. As dusk falls, the city skyline twinkles with a thousand lights, with Kok Tobe Hill's glowing TV tower, standing sentinel over the city, its viewing deck offering panoramic vistas of Almaty's nocturnal charm.
Almaty, with its vibrant blend of history, culture, gastronomy, and nature, offers an immersive travel experience that caters to a wide variety of interests and tastes. Its unique blend of East and West, ancient and modern, and urban and natural, make it a captivating destination in the heart of Kazakhstan.
To book your flight to Almaty, please call Air Astana at +1 888 855 1557 for assistance.