Book your Flight Tickets today!
6%
Instant Discount* for Students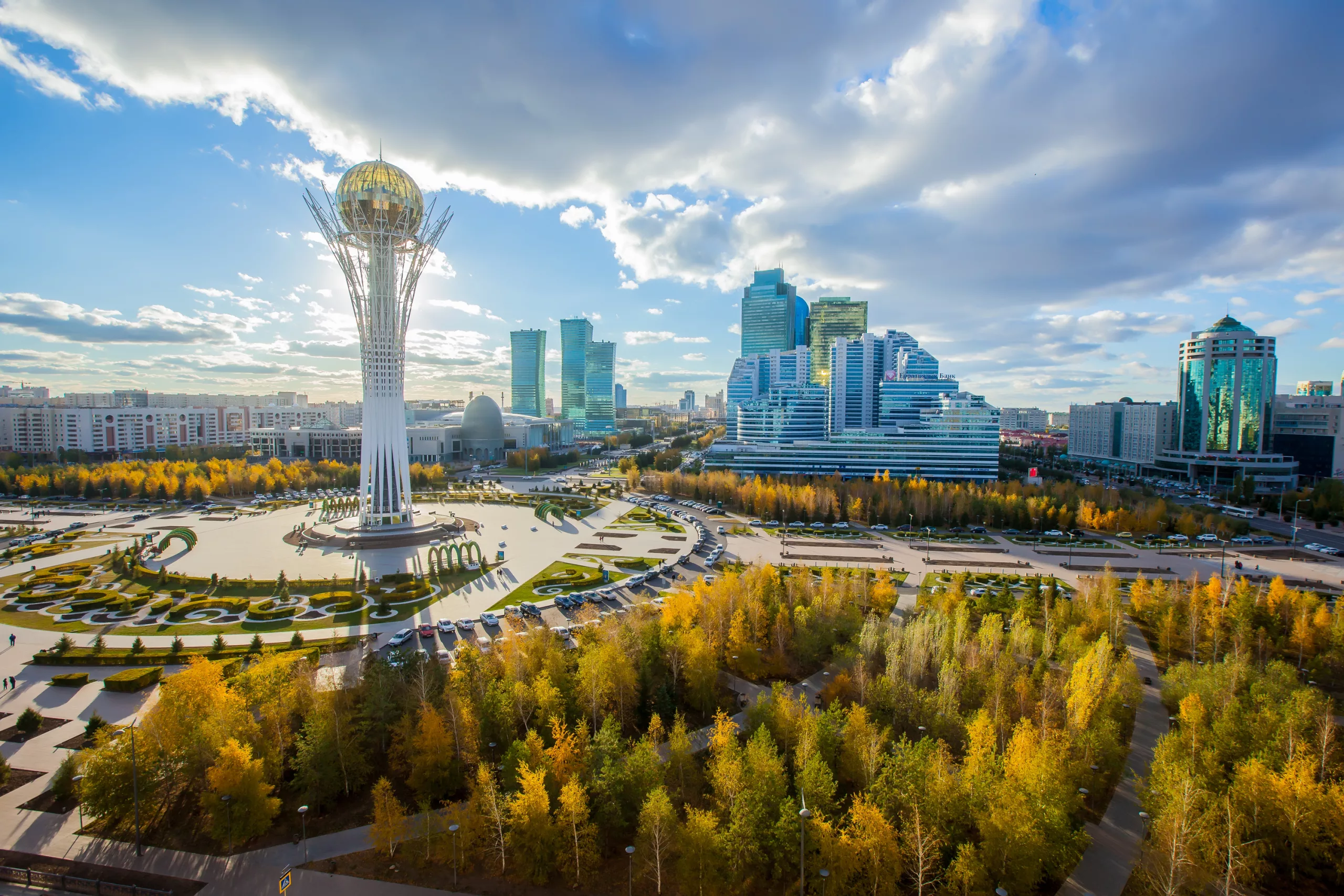 At the heart of the vast, sweeping steppes of Kazakhstan emerges Astana, or Nur-Sultan as it has officially been known since 2019, an architectural utopia, an oasis of the future flourishing amid a landscape drenched in deep-rooted traditions. In a world yearning for unique travel experiences, Astana offers an unforgettable mosaic of audacious design, Central Asian heritage, and burgeoning cosmopolitan lifestyle.
The city's skyline is a sight to behold, an impressive blend of futuristic structures and ornate, traditional motifs. The glittering skyscrapers stand as modern titans, monuments to the country's aspirations and achievements. Towering among them is the Bayterek Monument, with its gilded egg cradled by metallic branches, symbolizing a mythical tree of life, a testament to the intriguing fusion of old and new. As you ride the elevator to the top, prepare for breath-taking panoramic views of the city sprawled out below.
Astana's vibrant atmosphere reverberates through its remarkable attractions. One is Khan Shatyr, a shopping mall that stretches the definition of the term, given that it is the largest tent in the world, designed by British architect Sir Norman Foster. It encapsulates an urban-beach, wave pool, and an amusement park under a single roof, embodying the city's penchant for going beyond the ordinary.
Stepping away from the glimmer of skyscrapers, Astana unveils an enriched historical side. Immerse yourself in the city's spiritual pulse at the Nur-Astana Mosque, one of the largest mosques in Central Asia. Its stunning dome and minarets, decked with azure-blue and gold, is a beautiful symbol of Kazakhstan's Islamic heritage.
The city also nurtures a thriving arts scene. Visit the Astana Opera to savor world-class performances in a setting reminiscent of the grandeur of European theatres. Or wander through the National Museum of Kazakhstan to journey through the nation's history, from ancient artifacts to modern art installations.
While the cityscape enthralls, the warm Kazakh hospitality and burgeoning culinary scene add a delightful layer to your visit. Indulge in traditional fare like Beshbarmak or explore contemporary eateries serving a fusion of Kazakh and international cuisine.
Astana's summers, unlike its chilly winters, are mild and pleasant, ideal for strolling through the city's green spaces. Parks like the Presidential Park, with meticulously manicured lawns and beautiful fountains, add a soothing contrast to the city's concrete and glass edifices.
To visit Astana is to step into a world where the past and future converge in the most unexpected ways. It is a city that celebrates its roots while looking boldly towards tomorrow. Unveiling its treasures at your own pace, you will discover why Astana is an unmissable destination, an Asian metropolis with a touch of avant-garde, in the heart of the captivating Kazakh steppes.
To book your flight to Astana, please call Air Astana at +1 888 855 1557 for assistance.