Book your Flight Tickets today!
6%
Instant Discount* for Students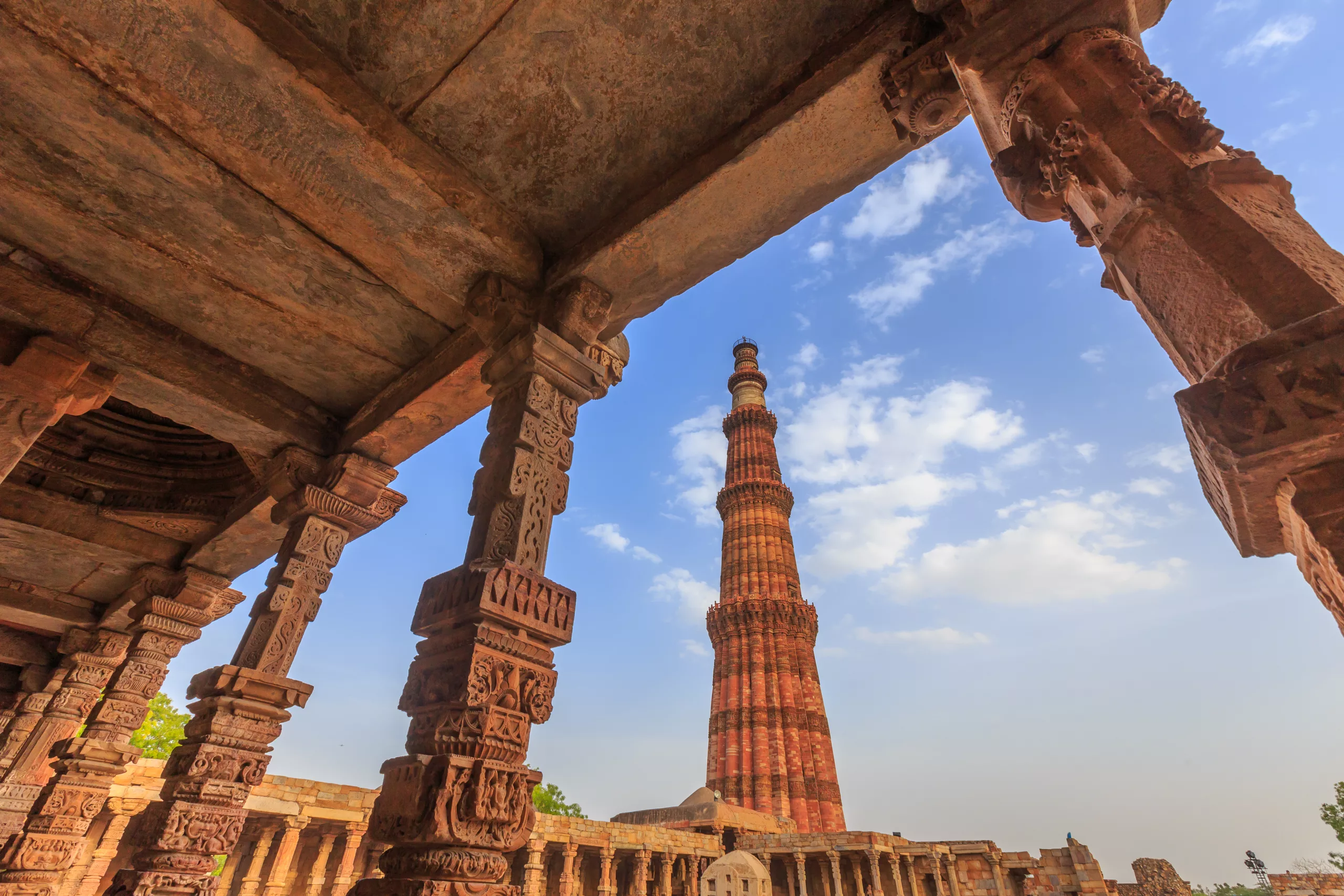 Steeped in history yet dynamically cosmopolitan, New Delhi, the heart and capital of India, offers a vivid blend of cultures, architecture, and experiences. Known for its rich heritage, bustling markets, diverse culinary scene, and a spirit that marries the ancient with the contemporary, New Delhi is a city that enchants at every turn.
Delhi's architectural panorama is a testament to its storied past and vibrant present. The Qutub Minar, a UNESCO World Heritage Site and one of the city's oldest monuments, stands tall as a symbol of Delhi's historical grandeur. The Red Fort, with its intricate Mughal architecture, narrates tales of empires gone by. Contrast this with the Lotus Temple, a masterpiece of modern architecture and a place of unity, or the impressive Swaminarayan Akshardham temple, and you start to see the city's fascinating architectural dichotomy.
In the heart of the city lies the verdant expanse of Lodhi Gardens, a perfect retreat from the urban hustle. Nearby, the India Gate, an iconic war memorial, stands regal, while the grand Rashtrapati Bhavan provides a glimpse of the country's political epicenter. These sites are not only historically significant but also demonstrate Delhi's flair for combining urbanity with green spaces.
Delhi is a paradise for gastronomes. From the lip-smacking street food in Chandni Chowk, offering delectable chaats and parathas, to high-end dining experiences in Khan Market or Hauz Khas Village, the city serves up a culinary journey as diverse as its populace. Delhi's cuisine is a reflection of its multicultural fabric, offering delicacies from all corners of India.
Shopping in Delhi is another highlight, with markets teeming with colorful textiles, jewelry, handicrafts, and spices. From the bustling bazaars like Janpath and Sarojini Nagar to posh retail hubs like Select CITYWALK and DLF Emporio, Delhi caters to every budget and preference.
The city's art and cultural scene is vibrant, too, with numerous galleries, museums, and cultural centers. The National Museum houses a vast collection of artifacts, while the National Gallery of Modern Art showcases works from prominent artists. Regular cultural festivals celebrate everything from classical music and dance to literature and drama, embodying the city's thriving arts scene.
Delhi's essence, however, lies in its diverse, vibrant population. From rickshaw pullers and roadside vendors to corporate executives and government officials, the city is a melting pot of people from different walks of life, each contributing to its unique and enticing character.
Traveling to New Delhi is much more than just visiting a city; it is a journey through time, a gastronomic adventure, a cultural immersion, and a testament to the human spirit's resilience and diversity. With its vibrant chaos and serene corners, its tales of bygone eras, and its forward-looking dynamism, New Delhi is a city that truly epitomizes the soul of India.
To book your flight to New Delhi, please call Air Astana at +1 888 855 1557 for assistance.