Welcome to Miami, Florida
Book your Flight Tickets today!
6%
Instant Discount* for Students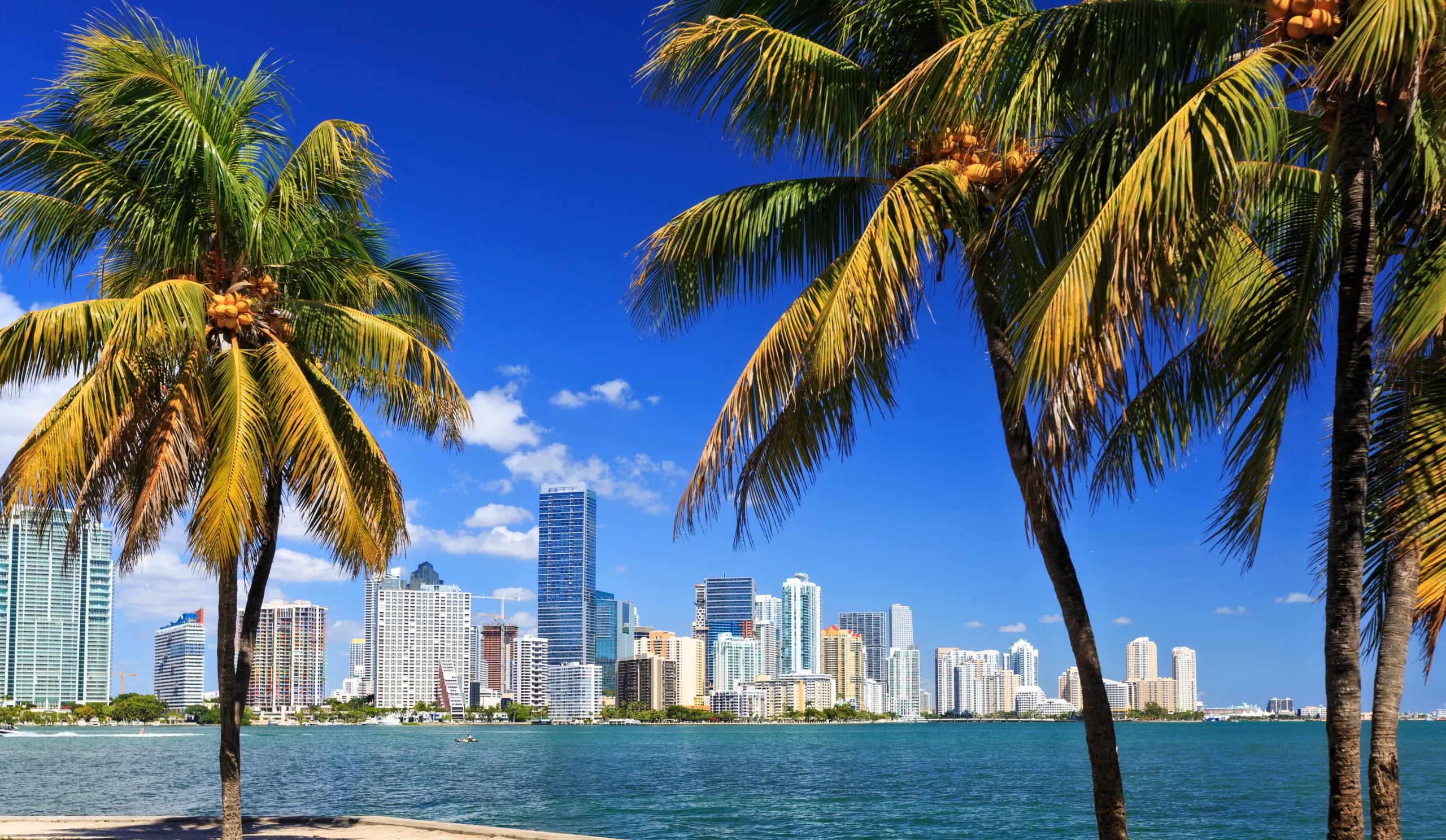 Miami, a bustling city located on the southeastern coast of Florida, is a prime destination for travelers seeking a mix of urban vibrancy, cultural diversity, and tropical flair. With its stunning beaches, art deco architecture, world-class cuisine, and vibrant nightlife, Miami offers a unique and unforgettable experience that is not to be missed.
One of the main attractions of Miami is its beautiful beaches. The city boasts of miles of soft, sandy shores and crystal-clear waters that provide the perfect setting for sunbathing, swimming, and water sports. South Beach, the most famous beach in Miami, is known for its art deco architecture, colorful lifeguard stands, and lively atmosphere. For a quieter beach experience, visitors can head to the secluded Crandon Park Beach or the pristine Haulover Beach.
Miami is also known for its vibrant art scene. The city is home to several world-renowned art museums, including the Perez Art Museum Miami, which features contemporary art from around the world; and the Bass Museum of Art, which showcases works from various periods and cultures. The Wynwood Walls, a vibrant outdoor street art museum, is also a must-visit destination for art lovers.
The city's diverse cuisine is another major draw for visitors. Miami is a melting pot of cultures, and its cuisine reflects this diversity. Visitors can sample a wide range of culinary delights, from traditional Cuban dishes like ropa vieja and plantains to modern fusion cuisine like Peruvian-Japanese ceviche and Korean-inspired tacos. The city's food scene also features numerous food festivals and events throughout the year, including the Miami Spice Restaurant Month and the South Beach Wine & Food Festival.
When the sun sets, Miami's nightlife scene comes alive. The city offers a wide range of options, from chic rooftop bars and elegant nightclubs to beachside lounges and live music venues. Visitors can dance the night away to the beats of world-renowned DJs, sip on specially crafted cocktails, or enjoy a relaxed evening at one of the many outdoor bars and cafes.
Miami is an excellent base for exploring other parts of South Florida. Visitors can take day trips to nearby attractions like the Everglades National Park, which offers an opportunity to explore the region's diverse ecosystem, or the charming town of Key West, located at the southernmost point of the continental United States.
Miami is a vibrant and exciting city that offers a unique blend of sun, art, culture, and cuisine. With its stunning beaches, world-class art museums, diverse culinary scene, vibrant nightlife, and easy access to nearby attractions, Miami is a destination that should not be missed. So why not head to Miami and discover the magic of this tropical paradise?
To book your flight for Miami, please call Caribbean Airlines USA at +1 877 420 4818 for assistance.