Book your Flight Tickets today!
6%
Instant Discount* for Students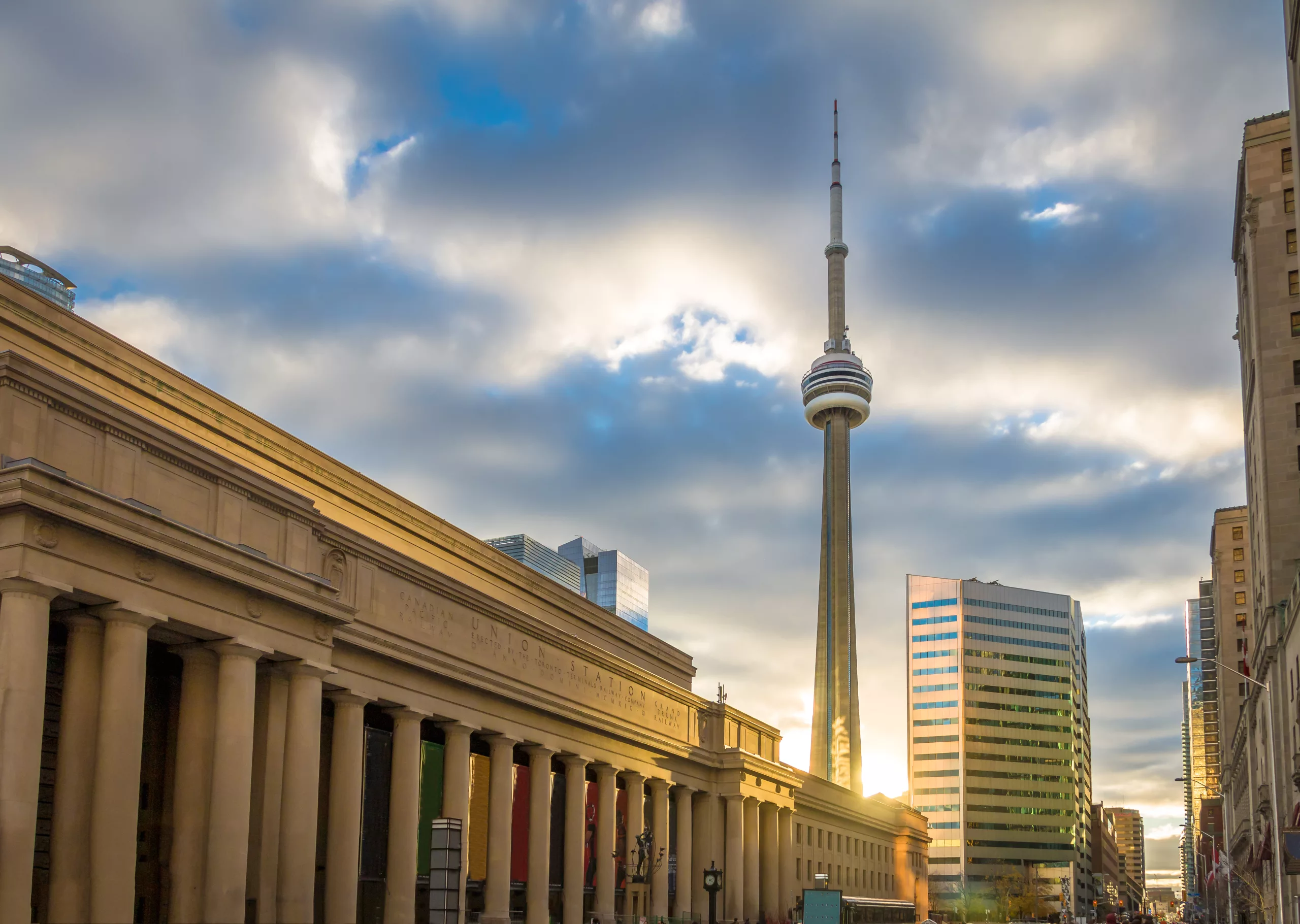 Welcome to Toronto, the pulsating heart of Canada, where soaring skyscrapers meet serene green spaces, and cultures from around the world converge to create a vibrant, urban mosaic. Renowned as one of the world's most diverse cities, Toronto is a cosmopolitan playground that offers a rich tapestry of experiences waiting to be discovered.
Toronto's skyline, dominated by the iconic CN Tower, is a testament to the city's ceaseless ambition. Ascend to the tower's observation deck for an unrivaled view of the cityscape, or dare to walk on the edge with the thrilling 'EdgeWalk' experience. Yet, beneath these towering heights, you'll find Toronto's soul in its dynamic neighborhoods. From the historic Distillery District's cobblestone streets and Victorian-era architecture to Kensington Market's bohemian charm and the stylish boutiques of Queen West, each neighborhood offers a unique slice of Toronto life.
Cultural connoisseurs will be spoiled for choice in Toronto. The city is home to world-class museums like the Royal Ontario Museum, with its diverse collections spanning art, culture, and nature, and the Art Gallery of Ontario, which houses an impressive array of Canadian and Indigenous art. Toronto's rich multicultural tapestry is reflected in its festivals like Caribana, a vibrant celebration of Caribbean culture, and the Toronto International Film Festival, which transforms the city into a glamorous, star-studded cinema mecca every fall.
Epicureans will delight in Toronto's thriving food scene, a testament to its cultural diversity. From the bustling St. Lawrence Market, renowned for its array of local and international delicacies, to the city's countless eateries serving everything from dim sum and butter chicken to poutine and peameal bacon sandwiches, Toronto is a gastronomic voyage around the world. The city's craft beer scene is also buzzing, with numerous local breweries offering unique, locally brewed selections.
Toronto's green spaces provide a refreshing counterpoint to its urban hustle. The city's waterfront, with its beaches, parks, and sailing facilities, is a haven for outdoor enthusiasts. Further afield, the Toronto Islands offer a peaceful retreat with their car-free paths, picnic spots, and stunning views of the city skyline.
The true charm of Toronto, however, lies in its people – welcoming, diverse, and fiercely proud of their city. They infuse Toronto with an energy and warmth that turns any visit into an unforgettable experience. Whether you are exploring the city's landmarks, diving into its cultural offerings, indulging in its culinary delights, or simply strolling its vibrant neighborhoods, Toronto invites you to join its rhythmic dance.
Embrace the diversity, feel the energy, and let Toronto's vibrant spirit inspire you. This city isn't just a destination; it is a world of experiences waiting to unfold.
To book your flight for Toronto, please call Caribbean Airlines USA at +1 877 420 4818 for assistance.