Welcome to Hyderabad, the City of Pearls
Book your Flight Tickets today!
6%
Instant Discount* for Students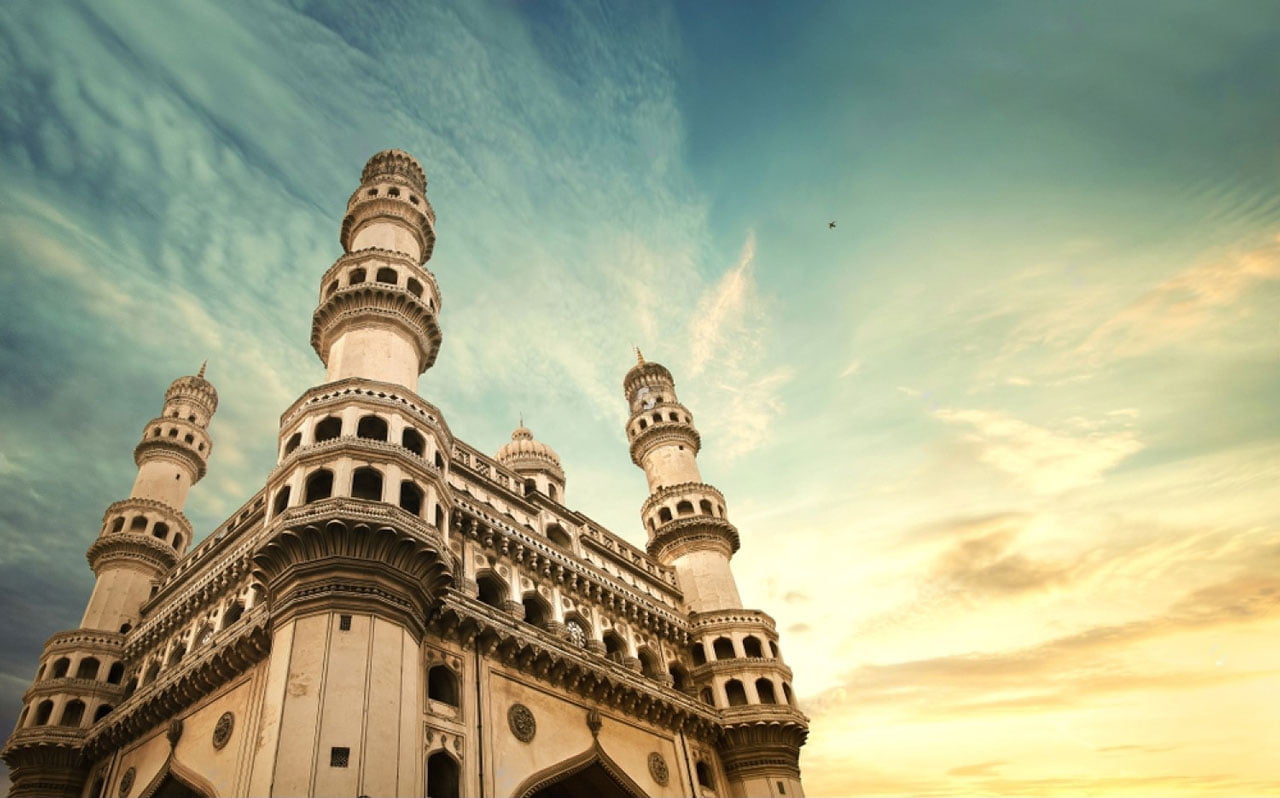 The Old City of Hyderabad is one of India's most evocative ancient quarters. It is steeped in history, packed with people, and bustling with trade.
You will come across a bustling urban masala of color and trade as you explore the streets of this neighborhood, replete with its chai stores and spice sellers. Some of the most stunning buildings from India tower over the Old City, albeit in various states of restoration. The majority of visitors focus on this area, while the spectacular Golconda Fort is also worth seeing.
The Golconda Fort was well known for its diamonds, which were primarily mined in the Krishna River valley but cut and traded here, including the world-famous Koh-i-noor. To prevent war elephants from passing through, Golconda's enormous gates were studded with iron spikes. The fort's ingenious acoustics ensured that even the slightest sound from the entrance would reverberate throughout the fort complex, while a network of hidden glazed earthenware pipes provided a steady supply of water to its residents.
This massive fort is the most striking sight in Hyderabad and is located on the western side of the city.
But there is more to see and do in Hyderabad. From being a mecca of Islamic architecture, today Hyderabad has evolved to become a modern city in its own right. It appeals to all age groups, and the cuisine is a blend of several cultures. If you ever find yourself in Hyderabad, you should definitely make it a point to sample Dum Biriyani, the popular rice dish that has come to be synonymous with the city. The Nehru Zoological Park, on the other hand, affords you the chance to experience some fauna native to the region.
Then there is Ramoji Film City, which holds the ubiquitous distinction of being the Largest Film City in the world, as officially certified by the Guinness Book of World Records. And it is not hard to see why. Spread over 2000 acres, this filming location literally has everything you ever need as the backdrop for a Bollywood movie. If movies don't interest you, head to Hussain Sagar Lake, a large man-made lake that is hard to miss with its giant monolithic Buddha at the center. There are ample opportunities for boating here.
With daily flights to Hyderabad, the City of Pearls is now just a call away. Call IndiGo USA at +1 877-606-2560 for more information.
Call IndiGo USA at +1 877-606-2560 for more information.