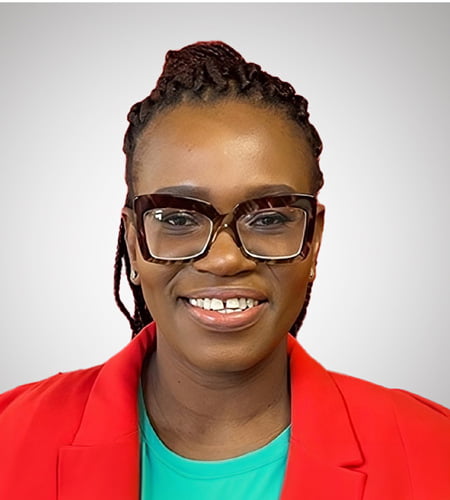 Sthembiso Dlamini, CEO of the Gauteng Tourism Authority.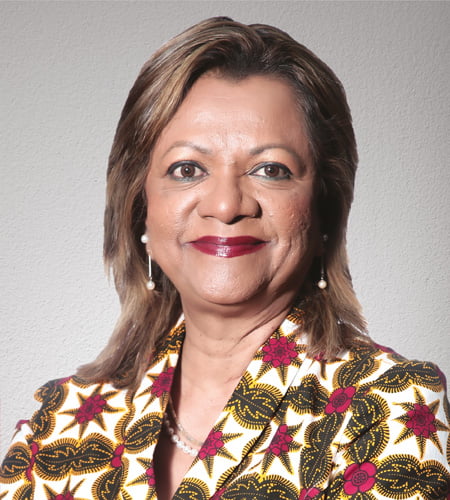 Achma Asokan, AirlinePros International Group CEO.
Trade partners have welcomed Air Algérie's (AH) first flight to South Africa. Starting September 21, 2023, Algeria's flag carrier will connect North and South Africa with two weekly flights between Algiers (ALG) and Johannesburg (JNB).
The service will boost trade and tourism between the two countries and offer additional capacity into South America, China, Canada, and Europe via the airline's hub in Algeria.
The inaugural flight touched down at OR Tambo carrying a high-level delegation of Algerian ministers, embassy officials, the airline's executive leadership team, and media in August. The journey took around nine hours.
The new service will begin with two weekly flights, leaving Algeria on a Sunday and Wednesday, arriving in JNB on Mondays and Thursdays. Bookings are open via GDS displays.
Yacine Benslimane, Air Algérie CEO, said: "These flights will allow passengers and economic operators an additional means of traveling and transporting their cargo to North Africa, Europe, North America, and the Middle East."
It is the carrier's 45th international route and seventh in Africa.
Achma Asokan, Group CEO, of AirlinePros International, added: "The launch of this new route between Algeria and South Africa comes as a boon to Intra-Africa travel. Furthermore, it re-establishes a relationship that began in the 80s between the countries and will be an enabler for growth in trade and tourism.
"It supports Algeria's plans to expand the national airline's network and make Algiers a major North African hub. Algiers will soon become a convenient transit point for southern African passengers looking to travel onward to Asia, Europe, Canada, and South America," she said.
AH plans to launch direct flights to Addis Ababa and Douala later this year, followed by at least two more destinations – Caracas and Havana – in early 2024. Talks are also underway to launch a new route from ALG to New York, connecting the two continents.
'Solving Africa's problem'
 Zakhele Thwala, Deputy Director General: Civil Aviation at the Department of Transport, added: "Today, we are saying we will solve Africa's problem. We will connect ourselves. Travellers can now connect with North Africa with ease. It opens many opportunities for economic growth and tourism."
The Gauteng Tourism Authority is also on board to grow tourist traffic on the route.
Sthembiso Dlamini, CEO of Gauteng's Tourism Authority, a member of Gauteng's Air Access Project, said North Africa was a growing source of exhibitions, corporate meetings, and events business for SA and that packages that would stimulate both inbound and outbound markets.
Algeria is known for its rich oil and gas reserves. For the leisure market, it offers beautiful beaches along an unending Mediterranean coastline, exciting activities in the Saharan desert interior, Roman ruins and Ottoman landmarks, and many cultural nuances.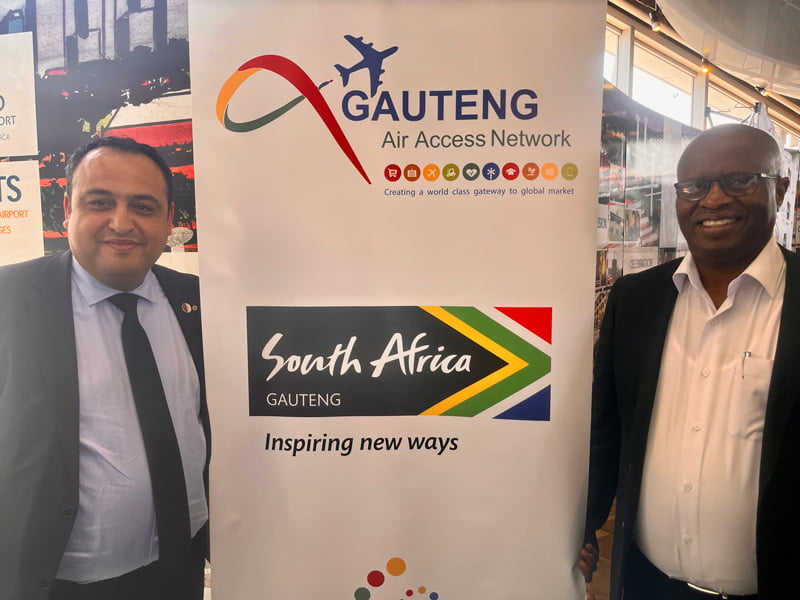 Yacine Benslimane, Air Algérie CEO (pictured left) and Zakhele Thwala, DoT Deputy DG: Civil Aviation in South Africa, at a launch event at ORTIA.
Dlamini added: "We will enter into joint marketing agreements with the airline to showcase some of the products and experiences we have in Gauteng… We have a very strong trade and investment focus, so any airline or any new route means a lot from a trade and investment point of view, and we will build those relations."
Jabulani Khambule, Regional General Manager of Airports Company South Africa, agreed that the launch was a significant win for air access partners in the province. "This is great and very encouraging after Covid-19. We (ACSA) are also happy that it's an African airline coming to South Africa, which will contribute to intra-African trade and grow the industry," he said.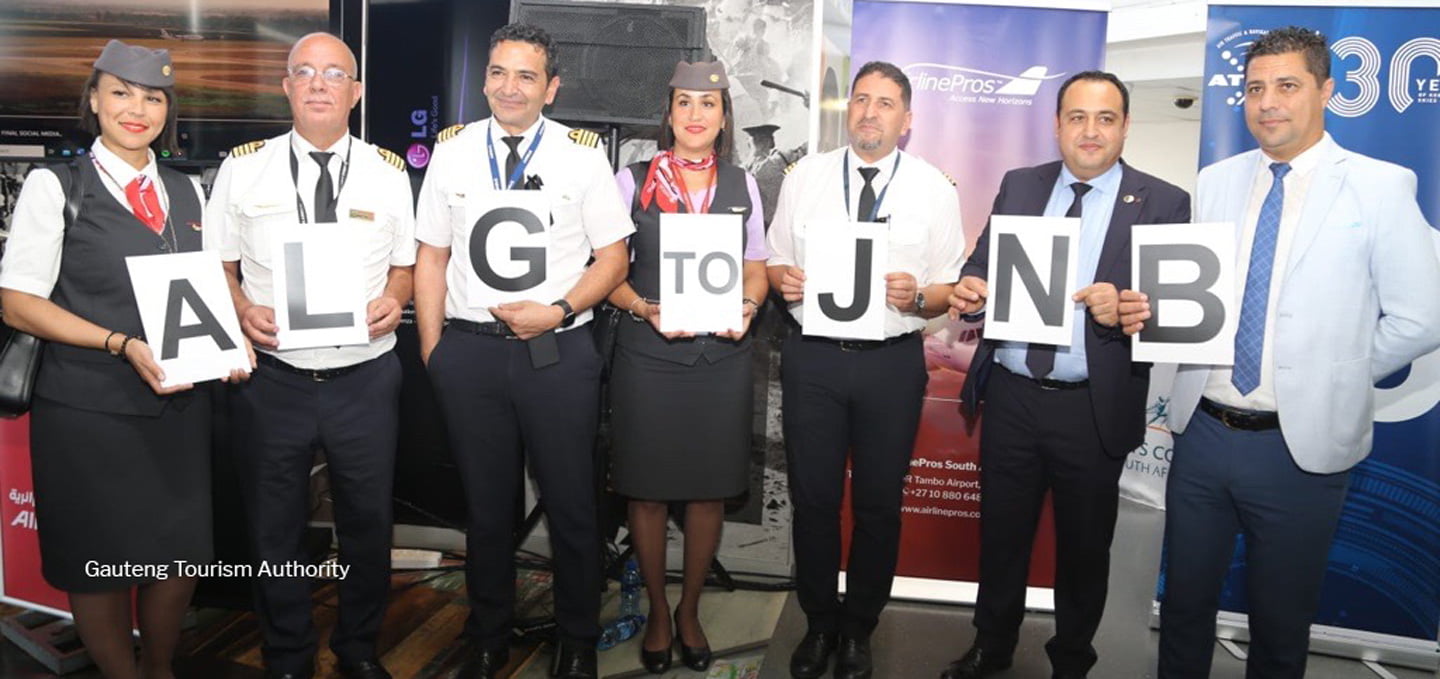 Cabin crew and airline management celebrate soon after the flight arrived in Johannesburg.